Riseman began by automating a number of computer techniques, including scanning the required background information, performing raster-to-vector conversions of the 2D site plan data, and then extruding that information up into the third dimension to begin building the computer models. Once the models were far enough along, texture maps could be applied, so that the surfaces of the models could simulate actual conditions.
A beneficial by-product of constructing such 3D computer models is the reuniting into a single reconstruction the images of the original excavated material that has since been dispersed, some on display in museums, some in private collections, and some in storage. In other words, the original ancient site can no longer be viewed as a unified monument, except in reconstructions. Computer-generated reconstructions based on actual excavated evidence are more accurate than any other method of reconstruction, short of rebuilding the actual structures.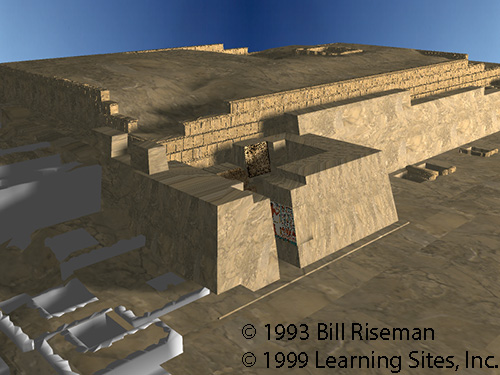 The rendering at the left (from 1993; hover over to enlarge) shows the tomb of Nofer (G2110; Dynasty IV, ca. 2606-2575 BCE). The model was based on evidence from excavation photographs, plans, and field diary entries. The field photographs allowed us to digitally re-place the actual blocks back into their original positions and give them their original appearance, color, and texture. The color panel is a re-creation of a carving on display in the Museum of Fine Arts, Boston (museum expedition #07.1002), seen here in a simulation of its original context for the first time. The computer reconstructions illustrate the tomb in a condition close to the monument's original forms, before exposure to the elements, tourists, and vandals caused its lamentable deterioration.